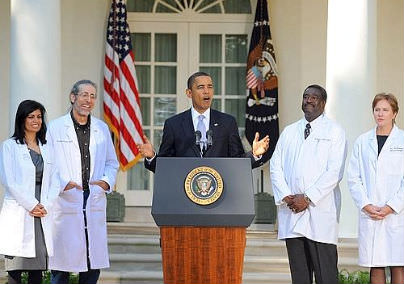 (Reason) For the past several years, the medical profession has been undergoing a disturbing transformation. The process was begun by the Centers for Medicare and Medicaid Services (CMS) in an effort to control exploding Medicare costs, and was accelerated by the passage of the Patient Protection and Affordable Care Act of 2010. As a surgeon in practice for over 30 years, I have witnessed this transformation firsthand. I fear that my profession will soon abandon its traditional code of ethics and adopt one more suited to veterinarians.

For centuries, my predecessors and I have been inculcated with what has come to be called the "Hippocratic Ethic." This tradition holds that I am ethically required to use the best of my knowledge to recommend to my patient what I consider to be in my patient's best interests—without regard to the interests of the third-party payer, or the government, or anyone else.

But gradually the medical profession has been forced to give up this approach for what I like to call a "veterinary ethic," one that places the interests of the payer (or owner) ahead of the patient. For example, when a pet owner is told by a veterinarian that the pet has a very serious medical condition requiring extremely costly surgery or other therapy, the veterinarian presents the pet's owner with one or more options—from attempt at cure, to palliation, to euthanasia—with the associated costs, and then follows the wishes of the owner.